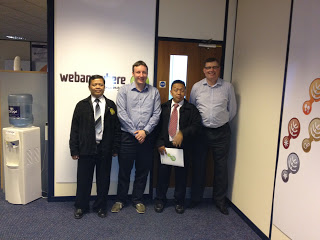 I was delighted to host a visit today from two teachers at the Pondok Pesantren Darunnajah Islamic Boarding School in Indonesia, and show them around the WebAnywhere office.
They are in the UK visiting The Holy Family Catholic School in Keighley, where I am a governor, as part of a teaching exchange programme funded by the British Council.
It was fantastic to hear their thoughts on the British educational system, and learn more about the picture in Indonesia.  Their school boards 2200 pupils, and conducts lessons 6 days a week (with Friday the only day off), with the pupils bringing their own laptops into lessons.
As Webanywhere expands internationally it is great to speak to as many educators from around the world as possible to find out what their experience of ICT in education has been, and their thoughts on its future.