One of the key reasons educators and corporations choose Moodle is the strength of the Moodle Community. This year's Moodle Moot was held in Edinburgh's Corn Exchange again demonstrating the power of the community where 350 people from across the globe descended on to the Scottish capital.
Martin Dougiamas' key note was slightly different this year. Martin had flown his children over from Australia to join in with the festivities. Each time a version of Moodle is release traditionally his kids have taken a photo symbolising which version number we are on. The next version of Moodle is 2.7 and will be supported for the next 5 years. Moodle users are recommended to upgrade their installs to this latest version which includes amongst other great features security patches. It was nice to see his kids take a photo with the audience in preparation for the new release in the coming months.
Martin in his key note demonstrated some exciting plans around user notifications and how in particular Moodle can talk to Apple and Google to enable SMART phone notifications. Furthermore, a brand new text editor has been coded from scratch to replace TinyMCE and allows Moodle developers to display only the text editing icons they need enhancing the user experience.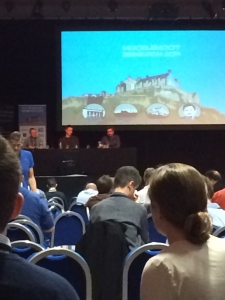 On the Moodle Theme agenda boot strap themes are to be used as standard and the 'More' theme was demonstrated showing how teachers can customise their own themes quickly on the fly. Other impressive developments I witnesses included a sophisticated social media and notices module developed by Glasgow College which greatly enhances the student experience online. And finally, I was interested to learn more about conditional learning pathways and how depending on the grades of your students various notifications and additional resources can be unlocked. This enables a personalisation of learning whereby students who are struggling are given extra support materials and tutors are notified to intervene. Gifted and talented learners with higher grades can be challenged with more stretching resources individualising the experience.
Of course it's not all about the technology it's the people that make Moodle Moots special. Over lunch I spoke to people from the USA, Poland, Lebanon and Australia – well yes that was Martin Dougiamas the Moodle founder from Perth!