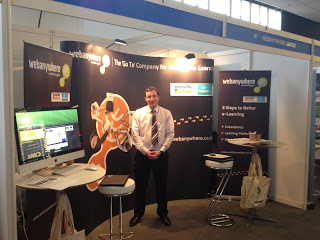 With the BETT show only just finished, I've dashed down to London again for another big date in our calendar; the 2012 Learning Technologies Exhibition. Held over the 25th and 26th of January in the Olympia 2, London, it's a showcase of the best technology and innovations designed to support workplace learning.
After an early start setting up at stand 14, we've had loads of visitors so far, making it a busy, but exciting morning.
Delegates have been chatting with us about all aspects of workplace learning, from consultancy to support. They've also been interested in live demonstrations of our open source training solutions, including the fantastic Totara LMS.
Of course, me and the Workplace Learning team are still looking forward to the rest of the exhibition. Here at Webanywhere, the idea of lifetime learning is key to what we do, so I can't wait to show off our latest innovations and find out what the other exhibitors have been getting up to.
I'm at the show with both Martin Judd and Conor Gilligan, two experts in e-learning, training and development who are ready to offer their tips, ideas and advice. So, if your at Learning Technologies, or in the area, please do come and say hello at stand 14.