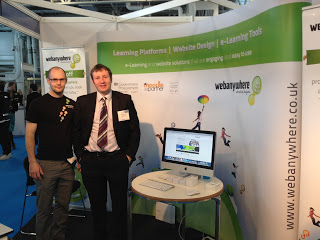 Today saw the return of the Webanywhere team to the Olympia in London, promoting our range of online learning solutions at The Academies Show 2012.
We were up bright and early to set up our stand and prepare for the influx of teachers, bursars, governors and educational leaders, all gathered to pick up some invaluable information on the Academies programme.
I've spent a busy morning chatting with those at the sharp end, meeting with educators to discuss the issues surrounding Academies, and what Webanywhere can offer.
The show has put on a fantastic programme of lectures and seminars conducted by those implementing the national education agenda and those overseeing the Academies programme, providing some extremely useful guidance.
I haven't had chance to catch as much of it as I would have liked to so far, as it has been all hands on deck at stand 54, with the Webanywhere team fielding enquiries and providing practical demonstrations of our range of learning software.
Webanywhere have established partnerships with many Academy schools, providing market leading learning platforms, social networking & e-portfolio systems and school websites. We've helped new Academies to hit the ground running and realise the potential of online technology to enhance learning, improve efficiency, and strengthen links with parents. I'm sure today will see the start of several new partnerships.
If you're coming down this afternoon, please stop by stand 54 and say hello.